Frank Pabian and David Coblentz
Frank Pabian is a retired Los Alamos National Laboratory (LANL) Fellow in the Geophysics Group, Earth and Environmental Sciences Division, with 45 years experience in nuclear nonproliferation, satellite imagery analysis, geospatial infrastructure analysis, and geologic mapping. He has published widely on open-source geospatial data mining, with particular emphasis on underground nuclear testing, including geologic site characterization of the North Korean nuclear test site with David Coblentz and the geolocation of the five nuclear tests to date. Pabian has engaged in arms control verification and monitoring both from space and on the ground, having also served in the 1990s as a United Nations' Chief Inspector in Iraq for the International Atomic Energy Agency (IAEA).
David Coblentz is the Geophysics Group Leader, Earth and Environmental Sciences Division, at Los Alamos National Laboratory. He has more than 20 years of experience and 30 peer-reviewed publications in the fields of numerical modeling of tectonic processes, quantitative tectonic geomorphometry, and the correlation of terrain imagery with subsurface geology. He is the lead-Principal Investigator on the Los Alamos GAMUT (Geologic Assessment Methodology for Underground Targets) project that uses remote sensing data to develop geologic framework models of the near-surface.
Abstract Commercial satellite imagery of the Punggye-ri Nuclear Test Site shows that substantial tunnel excavation is continuing at the "North" Portal (previously the "West" Portal), which provided support for the last four of the five declared underground nuclear tests conducted by the Democratic People's Republic of Korea. The North [...]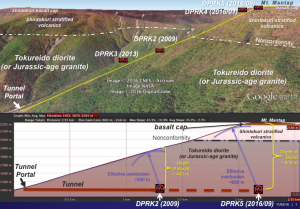 Abstract A review of available very high-resolution commercial satellite imagery (bracketing the time of North Korea's most recent underground nuclear test on September 9, 2016 at the Punggye-ri nuclear test site) has led to the detection and identification of several minor surface disturbances on the southern flank of Mt. Mantap. These [...]