By Frank Jannuzi
09 November 2014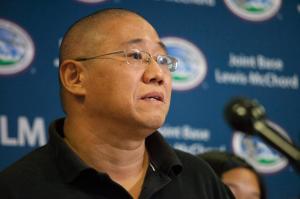 North Korea's release of detained Americans Kenneth Bae, 46, and Mathew Todd Miller, 25, combined with the freeing last month of Jeffrey Fowle, 56, signals a desire on the part of Pyongyang to clear the underbrush obstructing the resumption of official dialogue with Washington. Like the thorn bushes used by Lord Wellington to bar the advance of French troops in Portugal during the Napoleonic Wars, the North's detention of three Americans had presented a remarkably lightweight, yet seemingly impenetrable barrier to US diplomatic efforts to engage Pyongyang on issues of real strategic importance; namely, the North's development of nuclear weapons and the means to deliver them.
Bae, Miller, and Fowle were not arrested as "bargaining chips," but their detention had become major roadblock to any effort by Washington to resume diplomacy with Pyongyang. It is a very promising sign that Pyongyang has placed a higher priority on the resumption of dialogue than on deterring foreigners from visiting the DPRK to stir up trouble.
But this conciliatory gesture should not be misinterpreted. It is not proof that the Obama administration's "strategic patience" approach is working, nor does it, in and of itself, presage greater flexibility by the DPRK on the core issue of nuclear disarmament.
Rather, the welcome release of the Americans should be viewed in the broader context of a series of diplomatic moves by the North—sending diplomats to Europe, engaging with Japan on the sensitive issue of abductions, dispatching a top diplomat to defend the nation's human rights record in front of a skeptical United Nation's General Assembly, and holding high-level bilateral talks with the Republic of Korea—all of which suggest a government united under the leadership of Kim Jong Un and committed to the Byungjin policy (parallel development) of pursuing nuclear deterrence and economic modernization simultaneously. The message from Pyongyang seems to be this: "We know what we are doing. We want both nuclear deterrence and economic development, but are prepared to engage with the international community and address at least some of its concerns on the basis of sovereign equality and mutual respect."
Why Now?
It is tempting to jump to the conclusion that the North has "caved under pressure"—with economic sanctions and mounting human rights criticism spurring concessions. But there is scant evidence to support this interpretation. Sanctions have certainly not crippled the North's economy. Life in Pyongyang, where the North's 2 million elite live, is improving, with greater access to food, power, cell phones and consumer goods. International trade is up, especially with China, and sanctions have failed to prevent the North from acquiring the sensitive military-related technologies it needs to continue progress on uranium enrichment and ballistic missile development.
The human rights equation is more complicated and difficult to calculate. North Korea is undoubtedly sensitive about its international reputation, and was evidently stung by criticism of its human rights record at the UN. The North has responded to the findings of the special UN Commission of Inquiry on its human rights situation by mounting a furious diplomatic counteroffensive. DPRK Foreign Minister Ri Su Yong spoke before the UN General Assembly on September 27—the highest ranking DPRK official to do so in 15 years. And the DPRK Permanent Representative to the UN Ja Song Nam last month announced his government's intention to submit its own draft General Assembly (GA) resolution on the situation of human rights in the DPRK. Perhaps most significantly, in May of this year, the North issued a serious, detailed report to the UN Human Rights Council, responding constructively for the first time to the 2009 "Universal Periodic Review (UPR)" of its human rights record, explicitly acknowledging the legitimacy of international interest in the North's human rights performance. Taken together, these moves show that united international pressure on human rights can at least get Pyongyang's attention. It is too soon to say whether the DPRK will follow up with meaningful engagement on the human rights front.
While the release of the three Americans can be viewed as part of the North's human rights maneuvers—particularly blunting efforts to have its leaders referred to the International Criminal Court (ICC) for alleged crimes against humanity—the timing of the release strongly suggests a focus on Washington, not New York. Coming literally on the eve of President Obama's departure to Beijing to meet with Asian leaders at the APEC Summit, the North's move may have been designed to deprive President Obama of a talking point when explaining his administration's reluctance to resume the Six Party Talks to President Xi Jinping. Beijing has been pressing the Obama Administration to accept the North's repeated offers to resume dialogue "without preconditions."
Further evidence that this move does not represent a capitulation to foreign pressure comes from the method by which Washington secured freedom for Bae and Miller. By sending Director of National Intelligence James Clapper to Pyongyang, the White House wisely, if belatedly, chose to accede to the North's key demand that a senior US official travel to Pyongyang to negotiate the Americans' release. Washington had refused to bow to that demand for years, arguing that such high level visits constituted a reward for bad behavior.
The United States has no diplomatic mission in the DPRK, and relies on Sweden to serve as its "Protective Power" to provide consular services for Americans there. Sweden does an amazing job, and this Thanksgiving, I will be remembering the string of Swedish diplomats who have been so critical to protecting the rights of Americans in the DPRK, including Paul Beijer (Ambassador 2001-2005) and the current Ambassador, Torkel Stiernlöf. But months of valiant, concerted efforts by Sweden and by the US Special Envoy for Human Rights in North Korea, Robert King, had failed to secure freedom for the jailed Americans. Frankly neither the Swedes nor Ambassador King had enough political juice to give the North the face-saving gesture they needed do what they have secretly wanted to do for months. Only a cabinet-rank official would satisfy the North's need to extract a gesture of political humility out of Washington, and Clapper proved to be a mutually convenient choice. For Pyongyang, they got a visit from a retired Army general—a man they can understand and respect. For Washington, sending Clapper ensured a disciplined, low-profile envoy, who would stick to his script and not make news. David Sanger's New York Times report on the visit noted that administration officials would not say whether Mr. Clapper carried a letter from President Obama, but Sanger wrote that a senior administration official said Clapper "was there to listen," and to "reiterate our views."
What's Next?
With President Obama off to Asia, and with the North already engaged in diplomatic openings with all of the other members of the Six Party Talks (China, Russia, Japan and the Republic of Korea), attention will now to turn to how and when those talks—stalled for more than six years—might be resumed. The United States has demanded that the North take some concrete steps to demonstrate the "sincerity" of its interest in denuclearization in advance of the resumption of dialogue. The release of Bae and Miller are not the steps Obama is looking for in this regard. But Washington should not underestimate the significance of the move as one measure of the North's desire to resume serious dialogue with Washington on the issues that matter most, including peace, security, denuclearization and human rights.