By 38 North
06 February 2014
A 38 North exclusive with analysis by Nick Hansen.
Recent commercial satellite imagery indicates that North Korea is nearing completion of modifications to the gantry at the launch pad of the Sohae Satellite Launching Station (Tongchang-ri). A new eleventh level has been added—one more than previously estimated—allowing the facility to handle large rockets of up to 50 meters in length and almost 70 percent longer than the Unha-3 space launch vehicle (SLV) tested twice in 2012. Structural beams present in early January that appeared intended to support a roof for the tenth level are instead being used to support the additional level. Work appears nearly complete since there are no additional structures on or above that level and the roof is almost finished (figure 1).
Figure 1. Construction at the gantry tower nearing completion.
[caption id="attachment_5616" align="aligncenter" width="250"]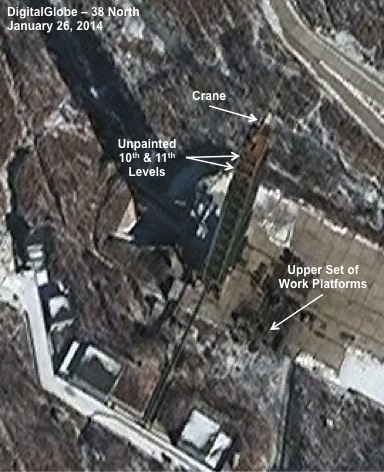 Click to enlarge. Image © 2014 DigitalGlobe, Inc. All rights reserved. For media licensing options, please contact thirtyeightnorth@gmail.com.[/caption] Modifications of the mobile stand probably to allow the launch of rockets with diameters greater than the Unha-3 also continued. Initially designed to accommodate rockets of up to 4 meters in diameter, the DPRK inserted a plug in the stand to reduce the opening's diameter to 2.4 meters, the same as the Unha first stage. While the extent and nature of the work to modify the stand is partially hidden by the gantry, a reasonable guess is that the stand will be able to handle larger rockets with a diameter of 3-3.5 meters.
[1]
Modification of the Sohae launch pad should be completed by March or April 2014 if work progresses at the current rate. The pad will then be available for additional launches, probably of the Unha-3 rocket or a slightly longer variant, such as the Unha-9, which was first displayed as a model in 2012. (A much larger SLV may not be completed for several years.) While activities at the site for the last Unha launch began about six weeks in advance, as of late January there were no signs that such preparations had begun. Based on current construction patterns at the launch pad, the new, much larger North Korean SLV will probably continue to rely on lower energy propellants rather than liquid oxygen and hydrogen or other high energy cryogenic fuels used by most modern space launch vehicles. To date, there are no signs of modifications at the pad, such as the installation of heavy-duty tanks or new delivery pipes, necessary to handle these propellants. In view of its size and fuel, the new rocket may be similar to the Ukrainian Cyclone-4 space launch vehicle, derived from old Soviet intercontinental ballistic missiles and capable of delivering a 5,300 kg satellite into low earth orbit or 1,800 kg into a geostationary orbit. Such an SLV will enable the North to launch a variety of communications, earth resource imaging and military reconnaissance satellites into low and geosynchronous orbits in the future.
Figure 2. Renderings of the adjusted gantry tower. (Click to enlarge.)
| | |
| --- | --- |
| [caption id="attachment_5625" align="aligncenter" width="300"] © Nathan Hunt/38 North. All rights reserved.[/caption] | [caption id="attachment_5626" align="aligncenter" width="300"] © Nathan Hunt/38 North. All rights reserved.[/caption] |
---
[1]
The stand does not appear designed for rockets 4 meters in diameter since there are no mechanisms around the mobile launch stand to hold it in place. Moreover, an increase in the new rocket's diameter of about one meter from the Unha would seem reasonable given North Korea's past development history, namely the increase of diameter of about one meter from the Taepodong-I rocket to the Unha-3.