By 38 North
07 October 2012
A 38 North Interview of Dr. Yu Byounggyu with Mike Chinoy
"[B]oth South and North Korea recognize that the Kaesong Industrial Complex is conducive to economic growth on both sides, and that the complex has great symbolic meaning in maintaining peace on the Korean peninsula. Also, citizens do not want the project to end." ~ Yu Byounggyu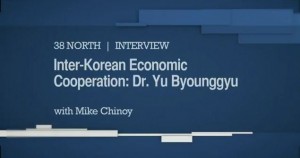 In this 38 North video, Mike Chinoy, Senior Fellow at the US-China Institute at USC sat down with Dr. Yu Byounggyu, Executive Director, Economic Research Department of the Hyundai Research Institute, to discuss the status and future of inter-Korean economic cooperation, with special emphasis on the Kaesong Industrial Complex and Mt. Kumgang tourism. The interview is divided into three parts. You can watch the video below or on our YouTube Channel
38northNK. Or download the transcript here.
Part I provides an overview of the major inter-Korean economic cooperation projects. Part II (04:13) discusses the future the prospects for continued inter-Korean economic cooperation, with special focus on the Kaesong Industrial Complex, including prospects for the KIC's expansion and its potential for inclusion in free trade agreements. Dr. Yu also discusses how the special economic zones along the Chinese border may impact inter-Korean economic cooperation. Part III (15:29) takes a closer look into the Kaesong Industrial Complex, addressing some of the human rights conditions often criticized within the complex and other major challenges the KIC must overcome to improve profitability for South Korean companies investing there. 38 North (www.38north.org) is a program of the US-Korea Institute at SAIS. Funding for the 38 North video series was generously provided by the Carnegie Corporation.
You can subscribe to the 38 North YouTube channel: 38northNK.