Schilling and Lewis and Schmerler
John Schilling is an aerospace engineer with more than twenty years of experience, specializing in missile and spacecraft propulsion and mission analysis. Dr. Schilling received his Ph.D. in astronautical engineering from the University of Southern California, and has spent most of his career supporting US civil and military space programs. His analysis of North Korean strategic weapons is supported by the 38 North project and does not represent the opinion of the United States Government or any of its contractors.
Jeffrey Lewis has been the Director of the East Asia Nonproliferation Program at the James Martin Center for Nonproliferation Studies (CNS) since 2010. Before coming to CNS, he was the Director of the Nuclear Strategy and Nonproliferation Initiative at the New America Foundation.
Prior to that, Dr. Lewis was Executive Director of the Managing the Atom Project at the Belfer Center for Science and International Affairs, Executive Director of the Association of Professional Schools of International Affairs, a Visiting Fellow at the Center for Strategic and International Studies and a desk officer in the Office of the Undersecretary of Defense for Policy. He is also a Research Scholar at the Center for International and Security Studies at the University of Maryland's School of Public Policy (CISSM).
Dr. Lewis received his Ph.D. in Policy Studies (International Security and Economic Policy) from the University of Maryland and his B.A. in Philosophy and Political Science from Augustana College in Rock Island, Ill. He is the author of "Minimum Means of Reprisal: China's Search for Security in the Nuclear Age" (MIT Press, 2007) and publishes ArmsControlWonk.com, the leading blog on disarmament, arms control and nonproliferation.
David Schmerler is a new Research Associate at CNS (2015). His regional interests include North Korea's ballistic missile program and East Asian Security. His research includes geospatial analysis, 3D modeling, and nuclear trafficking. David holds an M.A. in Nonproliferation and Terrorism Studies from the Middlebury Institute of International Studies at Monterey, and a B.A. in Political Science from the University of Illinois Urbana-Champaign. He also earned a certificate in Global Security from ADCIS (Program in Arms Control, Disarmament, and International Security UIUC).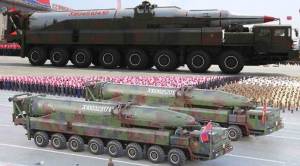 By John Schilling, Jeffrey Lewis and David Schmerler Executive Summary The intercontinental ballistic missile (ICBM) displayed by North Korea during the military parade in October appears quite different from the versions seen in 2012 and 2013, but a close examination reveals as many similarities as differences. The missile has been [...]